10% off Pink Tours -SF Pride Week June 19-29- to SF, Muir Woods, Wine Country starts at $56- win 2 Tours
Organized Chaos Events & Excursions
Questions? Call 415-584-3304
 Chaos simplified …nervous breakdown avoided!
Tours/Excursions
Offered Everyday from
Saturday June 19 – Tuesday June 29, 2010
With the Exception of Sunday June 27th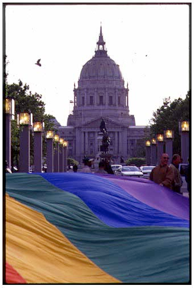 Sonoma County Wine Tour
Sonoma Valley's, just over an hour from San Francisco, and famous for their rolling hills, beautiful vineyards, and top-quality wineries. Your tour will include a visit to two wineries, where you will tour the grounds, learn about the special vintages, and experience a cave tasting of the winery's best . Also included in this tour is some time to explore and enjoy the quaint Sonoma County Square.
Muir Woods and Sausalito Tour
Explore our backyard!
A trip to the woods is just what the doctor ordered for peace, rest, and rejuvenation of spirit. The towering redwood forests of Marin County are home to the tallest, oldest trees in the world. They are majestic in scope, awe-inspiring in beauty, and singular in rarity.
To get to the woods, you have to go over the river, or in this case, over the bay. And the trip over this bay is a destination in and of itself. Guests will travel across the well loved Golden Gate Bridge into beautiful Marin County, making a brief stop at the North Tower where everyone can capture on film the breathtaking view of the City from across San Francisco Bay. Guests will then wind down the Panoramic Highway into Muir Woods. President Theodore Roosevelt saved this grove of ancient redwoods from the lumberjack's saw almost one hundred years ago. Today, visitors from throughout the world come to see these gigantic redwoods, only found along the Pacific Coastline.
After touring Muir Woods, guests will travel on to Sausalito.
City Pride Tour
Welcome to the Gayborhood!
You will experience San Francisco through the eyes of a local, getting not only the traditional City Tour to include cool neighborhoods, the Civic Center, Twin Peaks and the Golden Gate Bridge but also learn about the many ways the LGBT society has shaped and influenced San Francisco and the world as we know it today.
Do you know how San Francisco became the Gay Mecca of the World?
A large credit goes to the US military! That's right, during World War II the United States armed forces "sought out and dishonorably discharged" homosexuals. Many men who were expelled for being gay were processed at San Francisco bases. And many of these Gay men fell in love with the natural beauty of San Francisco and stayed. Since World War II, San Francisco's Gay and Lesbian population has grown quickly.
"I Left My Heart In San Francisco" was written by a gay couple, Douglass Cross and his partner George Cory. Tony Bennett's recording in 1962 made the song famous.
These and many more antidotes will leave you with a sense of the people and history of San Francisco.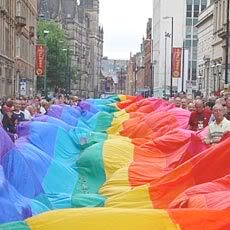 CLICK HERE TO PURCHASE TOUR TICKETS
 
To receive 10% discount on tours: Click on purchase tickets
click on "enter discount code button" enter OrganizedChaosEvents

Enter to win 2 Tours! Click on purchase tickets
click on "enter discount code button" enter the word GIVING
All Tours Depart from Marriott Hotel San Francisco


756 Mission Street
(at Fourth Street)


San Francisco

,

CA

94103


 

 
 
Other Maps:
Questions? Call 415-584-3304
Tags: http://gaypridetours2010-efbevent.eventbrite.com/
This entry was posted on Thursday, May 20th, 2010 at 11:41 PM and is filed under
All
. You can follow any responses to this entry through the
RSS 2.0
feed. You can
leave a response
, or
trackback
from your own site.
Leave a Reply